Q2 2023 Thrive Newsletter
What's going on with the banks?
What's going on with the banks?
I recently revived my "Level-Headed Update" webinar to make sure have perspective in the midst of the bank failures, bailouts, and mergers that have occurred in recent weeks.
What Happened to Silicon Valley Bank?
Silicon Valley Bank (SVB) failed in mid-March causing the FED (U.S. Government and tax dollars) to bail them out, guaranteeing all deposits. SVB is a large regional bank that does not have the same rules, regulations, and stress testing put in place for larger banks after the 2008 financial crisis. Rising interest rates, falling equity prices, high net worth clientele, and self-inflicted wounds by management eventually led to the bank's failure. To put it in perspective the FDIC insures the first $250,000 per account and still over 90% of SVB's deposits were uninsured meaning account holders had vastly more money deposited than the FDIC insured amount. This is NOT like the 2008 financial crisis where high leverage and exotic risky financial products were catalysts.
What Happened to Credit Suisse?
Credit Suisse hit the news cycle when the Swiss government had to step in to stabilize the bank, and UBS subsequently agreed to purchase it. This is a big deal because it's considered one of the 30 globally systemically important banks that has been deemed "too big to fail." Since 2008, Credit Suisse has struggled with scandals and compliance failures, along with their biggest backer — the Saudi National Bank — recently stating they are not prepared to put up more money after buying a near 10% stake in Credit Suisse last year. UBS has agreed to purchase Credit Suisse's assets in a deal brokered by the Swiss government.
What Happened to First Republic Bank and Signature Bank?
The plight of these two banks hit the news shortly after the SVB failure and in some ways was a result of the SVB failure. Like SVB they had a high percentage of deposits that were uninsured and when depositors saw the problems with SVB they began to panic and pull money out of these two banks. With a portfolio of bonds and stocks that are depressed in value due to rising interest rates and unprecedented withdrawals fears of another failure loomed. In came JP Morgan Chase and a group of other larger banks to infuse over $30 billion in deposits into First Republic which to date has somewhat stabilized the bank. Signature Bank was not so lucky and did not have time for a bailout as regulators took over the bank.
The Bottom Line
While these are serious events it doesn't mean we're heading for another financial crisis but it does raise the question, "What does safe mean to you?" Most would say money in the bank is safe or that bonds are low risk. But the banks are coping with high interest rates and bonds were down 13% on average in 2022 (and as much as 30%, depending on the type of bond). With this in mind we will continue to monitor the risks that exist for each person's situation.
Hey, Bill how are you doing?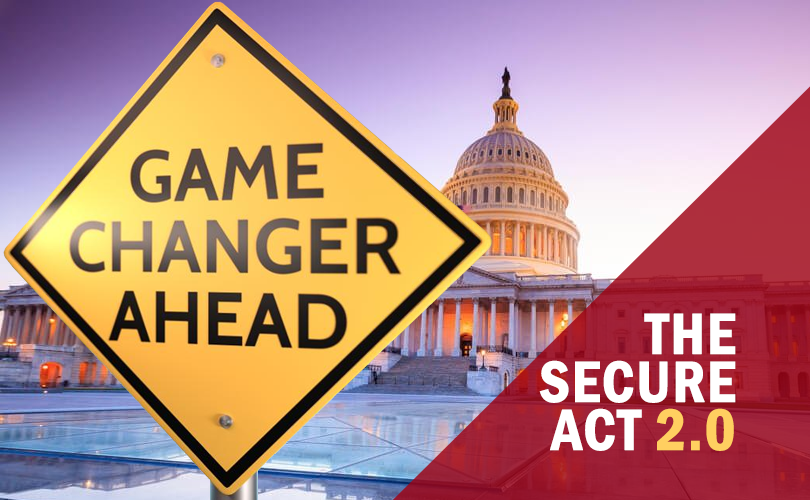 Not too bad, Tom, although a little confused.
What's going on?
There are so many rules, pitfalls, do's and don'ts when it comes to planning my retirement.
You're telling me, sometimes I don't even know where to even look for answers!
This is a surprisingly common conversation especially with constant changes, information overload, inflation, and a market downturn. What most don't realize is that the retirement planning landscape has changed drastically over the past four years. And in case you're wondering, it has nothing to do with the stock market being up or down. These changes affect every area of planning; impacting those just starting to save for retirement, near retirement, and in retirement.
On December 29, 2019, the Secure Act was passed which was the first wave of new laws that impacted retirement planning. It didn't receive much media coverage, especially when you think of the timing of COVID taking over the news just a month or two later. Throughout 2020, I spoke with not only individuals but other advisors and other companies in the financial services industry that were unaware of these major changes.
And guess what? It happened again.
On December 29 of last year, the Secure Act 2.0 was signed into law with the goal of increasing access to retirement plans, increasing retirement savings, and preserving retirement income. It too has not been talked about much, with inflation, bank failures, a looming recession, and market downturns dominating the headlines now.
And this creates a problem, because the Secure Act 2.0 arguably has even more changes than the first iteration, which could result in big mistakes and lost opportunities for working and retired folks. Keep in mind some of these changes go into effect in 2023, while others take effect in 2024 and 2025.
Below is a short list of the important changes affecting those near or in retirement:
Increase in catch up contribution to retirement plans for ages 60–63 starting in 2025.

Under current law, leftover 529 plan funds must be taken as a non-qualified distribution with the earnings being taxable. Beginning in 2024, you will be allowed to rollover up to $35,000 of leftover 529 funds to a Roth IRA.

The required minimum distribution (RMD) start date has been moved back to age 73 starting this year and will move to age 75 effective 2033.

A retirement lost and found database will allow individuals with money in a retirement plan to search the contact info of the plan administrator.

The penalty for not taking the annual required minimum distribution reduced from 50% to 25%; if a correction is made within two years the penalty drops to 10%.
With big changes there are always landmines and costly mistakes as well as gold mines…chances for you to benefit. We have been monitoring ALL these changes and will continue to assess your situation to see if there are any opportunities or adjustments needed